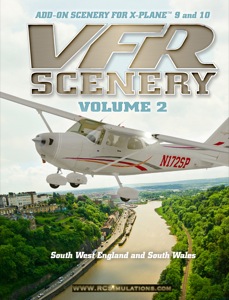 Produkte
X-Plane 9/X-Plane 10 - Scenery 2: South-West UK & South Wales (Box): 42,00 Euro

Systemanforderungen:
DVD drive
Windows XP
Windows Vista
Windows 7
Mac OS X 10.4.0
2GHz Intel Mac Core Duo
46.1GB HDD
2048MB RAM
256MB VRAM



X-Plane 9/X-Plane 10 - Scenery 2: South-West UK & South Wales
Scenery Pack for X-Plane - Volume 2: South-West England, South Wales
With the highest quality aerial photographic imagery and terrain data that technology can provide, X-Plane Photographic Scenery offers unparalleled scenery quality and allows you to recreate flights all over England and Wales in breathtaking photographic detail. Explore the UK, go sight-seeing, rehearse flights, practice VFR navigation techniques or simply enjoy spectacular views from your virtual cockpit.

Whatever your choice, this stunning scenery brings the UK to life in X-Plane like you have never seen it before. With custom imagery at a resolution of an amazing 1 metre per pixel, every landscape feature, road and building is visible in glorious photographic detail! The underlying 10 metre mesh further enhances the realism by sharpening the relief of terrain data, adding a crisp clarity to every mountain and geographic feature.

With full coverage of counties such as Devon, Cornwall and Somerset the idyllic beauty of England is brought into sharp focus. Experience the majesty of Wales from the Brecon Beacons to the nature reserves of the Gower Peninsular or practice VFR flight along the M4 corridor, from Bristol to Newport, Cardiff and Swansea. Every square mile of the South-West and South Wales is recreated in rich photographic detail!