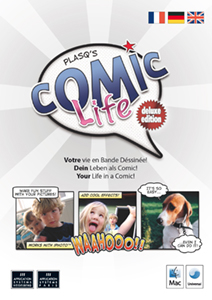 Products
Comic Life Deluxe: £24.99

System requirements:
Mac OS X 10.3
Mac OS X 10.4.0
Mac OS X 10.5
400MHz G3
75MB HDD
256MB RAM
32MB VRAM

Comic Life Deluxe
Your life becomes a comic with Comic Life Deluxe.
Comic Life Deluxe Edition is a highly acclaimed, fun, easy and powerful application that expands what you can do with your digital photos. With page and panel layouts, streamlined image selection, cropping and placement of authentic speech balloons, captions and special effects lettering - each with styles that can be saved as templates and used later on.

Comic Life offers full Integration with .Mac (including RSS feeds), iPhoto image library and exports to TIFF, GIF, JPEG, PNG, HTML, iPhoto and Quicktime formats. Taking advantage of OS X's CoreImage, the program features image effects that transform your photos into Comic Life images and more. Capture images directly from your iSight or DV Camera within Comic Life - drag and drop elegance.

Features:
Easily create Single Panel Comics by dropping an image onto a new blank comic page!
Ability to import comics
A single click on a page element adds an element to the center of the page
iPhoto Events are an option when making a Quick Comic